Dallas Family Medicine Residency Application
Apply Online Today!
Thank you for your interest in the Family Medicine Residency Program at Methodist Charlton Medical Center.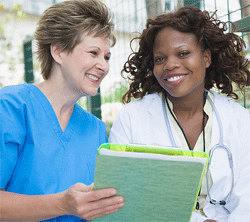 General application guidelines for all residency applicants include:
You must be two or less years out of medical school.
You must have one year of clinical experience in the U.S. that was completed no more than two years ago. Medical school clinical rotations qualify for this requirement, not observerships or shadowing
You must be a U.S. citizen or permanent resident
No minimum cutoff scores for USMLE or COMLEX, however expect no more than one failure
Deadline and Application Submission Information
Apply before December 1st using the Electronic Residency Application Service (ERAS). From the ERAS home page, click on "Participating Specialties and Programs," then click on "Family Medicine." Scroll down to Methodist Hospitals of Dallas.
The December 1st deadline also applies for the submission of the following materials, which complete the application:
Three letters of recommendation (one of which should be from a member of your medical school faculty)
A letter of support from the dean of your medical school
Your medical school transcript
Part I and II USMLE scores or Comlex I and II scores
Interview invitations are sent via email after applications are reviewed.
Contact Us
If you have additional questions, please contact us at: (214) 947-5420.
Please be advised that we do not accept or review unsolicited application materials submitted via email, fax, mail or any means other than ERAS. Minimum application criteria can be found on our website, http://www.methodisthealthsystem.org/FPResidency. Applicants must meet all criteria in order to be considered. We will not respond to requests for review of credentials.