Program Philosophy and Highlights
Internal Medicine Residency Program in Dallas County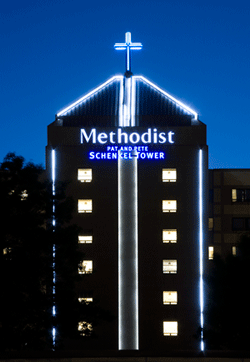 In the Methodist Heath System Internal Medicine Residency Program, the patient encounter is arguably the most important event in resident training. That experience serves is what really helps the developing physician build a meaningful relationship to their career. The Internal Medicine Residency Program of Methodist Health System truly emphasizes the importance of the doctor-patient relationship.
Physician–Patient Interaction
Coming to a full, meaningful understanding of your responsibility to your patients is key to becoming a competent and trusted physician. Our program is designed to encourage that feeling of individual responsibility for patient outcomes.
To accomplish this, the conventional role of the attending physician has been redefined.
The PGY-1 resident in our program is given the opportunity of first patient contact and the responsibility for evaluation and development of a management plan.
Immediate supervision comes from the senior resident on service, a PGY-2 or PGY-3 resident.
The attending physician serves in a supervisory role and, without compromising patient care, supports the development of resident autonomy and responsibility. Currently this is being accomplished by full time academic hospitalists.
Continuity of Care Concept
Teaching the importance of continuity of care is another important aspect of this program. The admitting resident is committed to continuous responsibility for the patient through all levels of acuity. It is common for a PGY-1 resident to admit a general medical patient from the emergency room, serve as primary care physician in the hospital, and ultimately assign the patient to his or her clinic for continuing care. With the exception of the Critical Care Unit, at no point is this patient's care transferred to a subspecialty team.
Golden Cross Academic Clinic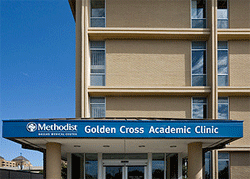 Our ambulatory clinic, the Golden Cross Academic Clinic, offers one of the most valuable experiences in the Methodist Internal Medicine Residency Program. The clinic exists solely for the training of residents; there are no private practice physicians involved in any aspect of the medical clinics.
Here, the resident is able to see, evaluate, follow, and manage his or her own patients in their own office with their own nurse. This real-life, hands-on experience with new patients and follow-up care for existing patients with chronic problems is maintained throughout the three years. Supervision and guidance are provided by our Internal Medicine Residency outpatient faculty members who are present for all sessions.
Cultivating Compassion
While medical skill and expertise are invaluable for a medical professional, it is equally important to develop and maintain deep feelings of compassion and humanism. These feelings come naturally to some, but it can be a challenge for many. This is not a moral failing—remember that a medical provider must live to exceptionally high standards in these areas. It can be difficult to always stay true to these feelings and not give in to impulse feelings.
The need to develop skills and concepts in patient care ethics has never been greater. Research has shown that humanistic and ethical issues best taught using specific case examples in small groups. We also provide residents with a lecture series and reading material.
Methodist Dallas Medical Center
Our Internal Medicine Residency Program is committed to providing an arena in which our residents can develop into knowledgeable and confident internists who are experienced in caring for both outpatients and hospitalized patients.
Through the support of our experienced faculty, a large dependable patient base, we give aspiring physicians a comprehensive educational experience designed to prepare them for the real world of medicine.
Dallas Veteran's Hospital
In 2017 we entered into a partnership with the Dallas Veterans Affairs Hospital. Our interns and residents now have the opportunity to rotate though the VA's Intensive Care Unit and subspecialty teams, which include neurology, endocrinology, cardiology, pulmonology, ICU and multispecialty rotations. We believe this experience both broadens and enriches our residents' clinical exposure while providing the rewarding and crucial service of caring for Dallas' veteran population.