International Medicine Track
International Medicine Training in Dallas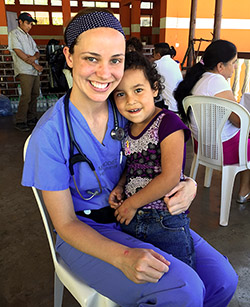 The International Medicine focus is a unique experience that provides residents with the skills and knowledge needed when caring for individuals in underserved countries. Residents will gain experience in global health and epidemiology world-wide through didactics, conferences, modules, and medical mission trips.
Third World countries often have different processes than what is experienced in the U.S., and residents will accumulate more exposure to this type of setting and ultimately better understand these processes. This track will ultimately assist residents in their decision contemplating a career in international medicine or participating in medical missions. This track is available to 2-3 incoming residents in each class.
Pictured: Dr. Hillary Carnell with a young patient on our Guatemala mission.
Objectives
To become an advocate for those with health care disparities and social needs
To overcome language barriers by improving specific language skills and the effective use of interpreters for public health needs
To gain an understanding of cultural competency and how it applies to patient care
To identify resources available locally for refugee and immigrant care
To acquire the knowledge and skills to treat common and uncommon conditions/disease states
To learn travel medicine and CDC recommendations
To fully understand them from the beginning to the end the overall coordination of a medical mission trip.
PGY-1
The first-year international medicine training track includes:
Developing core knowledge in global medicine, including, but not limited to, epidemiology and tropical diseases.
Assigned reading materials, videos, lecture series, and examination competencies.
Developing proficiency in diagnosis and treatment of patients with limited resources to do so.
Regular participation in a local refugee/indigent care clinic in Dallas.
PGY-2
The second-year international medicine training track includes:
A two-week international medicine elective with selection of an international clinic site from a list of approved sites such as Peru, Nicaragua, Panama, and Malawi.
Opportunity to attend a national global health meeting sponsored by either locally or nationally.
Opportunity to present a scholarly activity at a regional or national conference.
Regular participation in a local refugee/indigent care clinic in Dallas.
PGY-3
The third-year international medicine training track includes:
A one-month international rotation, which includes two weeks in Guatemala. Along with this will come the responsibility of assisting with the logistics and overall coordination of the trip.
Participation in the international medicine lecture series.
Completion of an international medicine research project with presentation on research day, and opportunity to present at a global health conference national meeting.