General Surgery Residency Program Highlights
Methodist Health System's Residency Programs in Dallas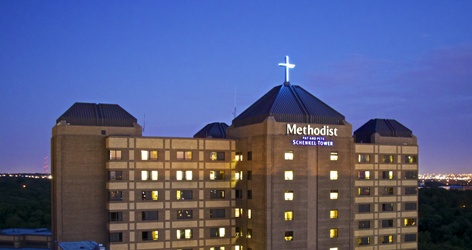 Methodist Dallas Medical Center is a 585-bed private, nonprofit hospital located just south of downtown Dallas in the historic, tree-lined area known as Oak Cliff. The hospital serves a diverse patient population.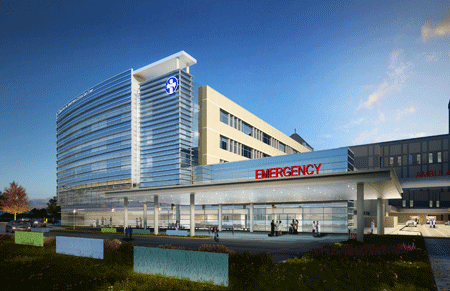 Pictured: Charles A. Sammons Trauma and Critical Care Tower
Methodist Dallas is also a Level I Trauma Center with over 1,900 trauma admissions per year. The hospital's trauma center offers general surgery residents experience with a variety of emergency procedures/operations as well as critical care management. Our 36-bed surgical ICU offers residents an invaluable education in the treatment of critically ill patients.
Services
Residents work closely with our trauma/acute care, hepatobiliary, colorectal and vascular surgeons learning the latest techniques in laparoscopic procedures and robotic surgery. Methodist Health System also boasts an active endoscopy program – a must in the training of the modern surgeon. Full time surgical staff in the disciplines of plastic surgery, cardiothoracic surgery, breast surgery, and surgical oncology also work closely with general surgery residents during the five training years.
Residents spend approximately seven months each year during the first four years on a general surgery/trauma/ICU rotation and spend the other months rotating through the previously discussed specialties. The chief year is spent transitioning into the role of attending surgeon as chief residents run their own service that is staffed by our program director, Dr. Michael S. Truitt.
HPB Fellowship & Organ Transplant Training
Methodist has become a hepatopancreatobiliary referral center with patients seeking care from a catchment area of Texas and several surrounding states. We have a thriving HPB fellowship and our residents finish their residency with pancreas and liver operative numbers in the 80-90%. The Liver Institute at Methodist Dallas is also an invaluable resource that exposes residents to a long-standing, patient-centered transplant center, allowing residents to participate in liver, pancreas, kidney, and multi-organ transplants.
Critical Care Fellowship
The goal of the Methodist Dallas Surgical Critical Care Fellowship program is to provide in-depth training and education as it relates to the treatment of critically ill and injured patients in the SICU.