Chest Pain Center Accreditation
Cycle III Chest Pain Center with Percutaneous Coronary Intervention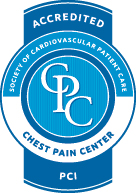 Methodist Mansfield Medical Center has received accreditation as a Cycle III Chest Pain Center with Percutaneous Coronary Intervention (PCI) from the Society of Chest Pain Centers (SCPC) in recognition of clinical excellence.
To become an Accredited Chest Pain Center, Methodist Mansfield engaged in rigorous evaluation by SCPC for its ability to assess, diagnose, and treat patients who may be experiencing a heart attack. To the community served by Methodist Mansfield this means that processes are in place that meet strict criteria aimed at:
Reducing the time from onset of symptoms to diagnosis and treatment
Treating patients more quickly during the critical window of time when the integrity of the heart muscle can be preserved
Monitoring patients when it is not certain that they are having a heart attack to ensure that they are not sent home too quickly or needlessly admitted to the hospital
To find a doctor or request an appointment,
call (214) 947-0000.